Deep Dive 2015 - Mañiuco Hands On
Public, rural education and indigenous people in Chile - an opportunity for global citizenship education 2.0?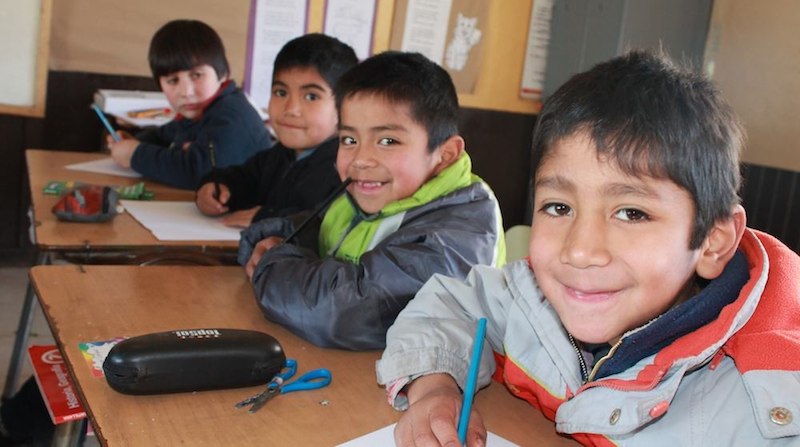 25 July – 2 August, Temuco & Galvarino commune, Región de la Araucanía, Chile
The Deep Dive is a global activity co-organized by the Melton Foundation, which combines two of our core principles:
Our mission at its best: working together across boundaries to build local solutions to global challenges. (click to read more)

Through the Deep Dive, we support ongoing projects where Melton Fellows work together with project partners on the ground to tackle a global issue – from education, to community empowerment, to empowering social entrepreneurs. How? We tap the synergies and passion of our global community in support of the project and bring a global team of experts from the Melton Foundation together with partner organizations and local communities to co-develop and collaborate on local solutions to global issues.

Experiential learning is the name of the game, not just a label. (click to read more)

A Deep Dive is a three- to four-month commitment for all parties involved. It's built on the principles of co-construction and mutually beneficial collaboration. The core piece of a Deep Dive is a one-week in-person phase, where the participants from the Melton Foundation team up with the local partner to implement previously identified activities. The in-person phase is embedded in awareness building, preparation, reflection and follow-up to hone everyone's passion and take synergies and lessons learned forward.
Team up for a week Full of learning, teaching, and Exchange at Escuela Mañiuco.
Mañiuco is a rural primary school outside Temuco. Almost all the students -- about 80 underprivileged children between 4 and 15 years old -- belong to the Mapuche ethnic group.
The contact between the Melton Foundation and Mañiuco School dates back to 2011 in preparation of our annual conference in Chile. What started off as a half-day visit in July has become an ongoing project until today. Based on the sustained collaboration in form of workshops, knowledge share, projects and a successful crowdfunding campaign, this Deep Dive seeks to intensify this relationship and propel the project to a next level.
The Deep Dive 2015 is organized in collaboration with the Mañiuco Community Education Project Team and Mañiuco School (Galvarino commune, Chile). Together, we will explore the contexts of public, rural schooling and indigenous peoples in Chile to build bridges towards a new level of global citizenship education.
What to expect from the Deep Dive:
Hands-on participation in simple, scalable projects that are designed around the context and needs of the project and the community
Deep connection between cultures
Experiential learning opportunity for all parties involved
Long-term impact on a personal, local, and global level
Sustained activity through long-term partnership between project partners and Melton Fellows
Deep Dive activities will take place between June and September 2015, and include an in-person workshop phase in Temuco & Galvarino commune from 25 July – 2 August 2015 (arrival and departure days included).
How to Participate
This Deep Dive supports up to 8 Senior and Junior Fellows (in their last year) from around the world to team up with the projects in Temuco and Mañiuco with substantial knowledge and expertise to tackle the following:
Teacher Trainings (click for details)

Didactics and dynamics to keep big classes motivated
Dealing with difficult students: hyperactivity, aggression, restlessness
Excel and Powerpoint for the classroom
Building resilience and motivation in the team
Energizers, breakout activities and outdoor games & exercises to facilitate learning processes
First Aid

Workshops and Activities with students (click for details)

Arts and Music for expression and balance
Intercultural awareness & building cultural identity
Social Media and the web 2.0 – using them rather than being (ab)used
Alcohol and drugs – their consequences and effects
Knowing your body - sexual awareness and healthy eating
Leading for change – empowering group structures to empower peer leadership
Building perspectives – career paths ahead First Aid

Activities with Parents (click for details)

Building cultural identity
Good partnerships at school – peers and teachers
Intercultural awareness & building cultural identity
Building perspectives and leading by example
After school – simple ways to help and support

Skill Workshops with the Mañiuco Community Education Project Team (click for details)

Institutional partnerships -- working together with other organizations
Building long-term projects – strategic planning and development
Do good well -- quality control and impact measurement
Grant Details
Senior and Junior Fellows (in their last year) with
substantial knowledge in any of the above areas
experience in facilitating workshops
availability to participate in the activities in Chile between July 25 – August 2
and – most importantly – who are both curious and passionate about the theme, can apply to this Deep Dive.
Successful applicants are eligible for a MF grant in support of travel expenses. The Melton Foundation will also organize meals and Accommodation at guest families during the in-person phase.
Important Deadlines
APPLICATION DEADLINE
15 June 2015
SELECTION OF PARTICIPANTS
21 June 2015
PREPARING FOR ACTION
1 - 20 July 2015
thematic introduction through online impulses and individual preparation for the activities
DEEP DIVE MEETS MAÑIUCO
25 July – 2 August 2015
(arrival and departure days included)
REFLECTION AND NEXT STEPS
August/September 2015
guided reflection, follow-up and showcasing
APPLY TODAY and join our team in Chile in July!
For questions or further information, please contact Patricia Ortiz or Lars Dietzel.