Photo Exhibit On Haiti: An Act of Global Citizenship
---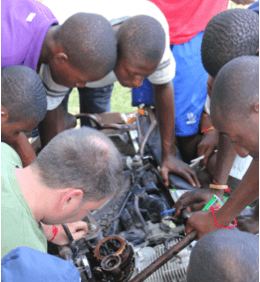 Melton Fellow Olaf Schiller was making a short trip from Germany to Haiti to teach young men to repair motorcycles. A global citizen, he wanted to connect the two places. Before his trip, he fundraised in Germany, raising $1000 in weeks. This paid for spare parts and further mechanic lessons for the Haitian students to build on Olaf's lessons. Olaf also "brought back" Haiti to Germany. On his return, he held a photo exhibit at his workplace of his time in Haiti. 
Comments
There are no comments

Posting comments after three months has been disabled.