Grants
The Melton Foundation provides grants to support Melton Fellows in developing wider networks and skills to become changemakers and make a positive difference in societies around the world.
In over five years of granting, more than 100 outstanding Fellows' initiatives have been awarded with Melton Foundation grants. But, the impact of the grants through the Fellows' actions is far greater.
We offer small-scale grants to our Fellows year-round through:
Project Grants which they may use to develop projects, or organize workshops or campaigns, linking greater global challenges to local circumstances;
Grants to understand similarities and differences in culture, economics and societies by learning new languages, interning at international organizations around the world, or traveling "off the beaten track" to meet and experience the realities of a place.
Click here for details and to apply (Note: applications are restricted to Melton Fellows)
All grant applications undergo a rigorous assessment process that benchmarks strength, tangibility and practicability to determine which applications meet our competitive selection criteria. A grant committee composed of Melton Fellows from diverse backgrounds spearheads this process. The cultural and professional diversity of this committee ensures that all grant proposals are assessed through a prism of multiple perspectives so that the plurality of interests and convictions that live within our Fellows network is considered.
Melton Foundation grants not only entail benefits for individual Fellows or groups, but also enable different approaches and creative solutions to today's challenges within local and global societies. Working together with the grantees, we help develop the projects, monitor progress and measure success to ensure that the projects have maximum impact.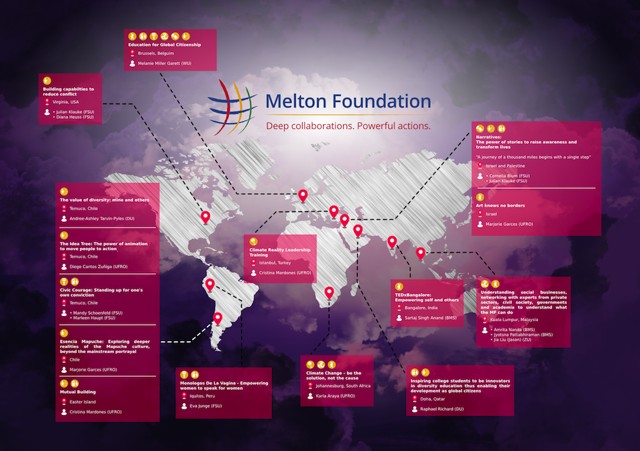 Projects supported by MF Grants between 2012-2014.