Grant Committee
The Melton Foundation provides grants to support Melton Fellows in developing wider networks and skills to become changemakers and make a positive difference in societies around the world.
The Grant Committee ensures that all grant proposals undergo a rigorous assessment process that benchmarks strength, tangibility and practicability to determine which applications meet our competitive selection criteria. It convenes Melton Fellows from diverse backgrounds and forms ad-hoc assessment teams depending on the area and scope of the respective grant application to ensure flexibility, professionalism, quality control and adequate support throughout the granting process.
The cultural and professional diversity of this committee ensures that all grant proposals are assessed through a prism of multiple perspectives so that the plurality of interests and convictions that live within our Fellows network is considered.
The MF Grant Committee has a long and successful history of providing monetary support enabling Fellows and the Foundation to grow together. In the past three years alone, we have given grants to 35+ Fellows the world over. With the support of our grants, Melton Fellows have been able to gain insights at seminars, impart knowledge and skills at workshops, partner TEDx conferences, empower local communities and address issues such as Climate Change.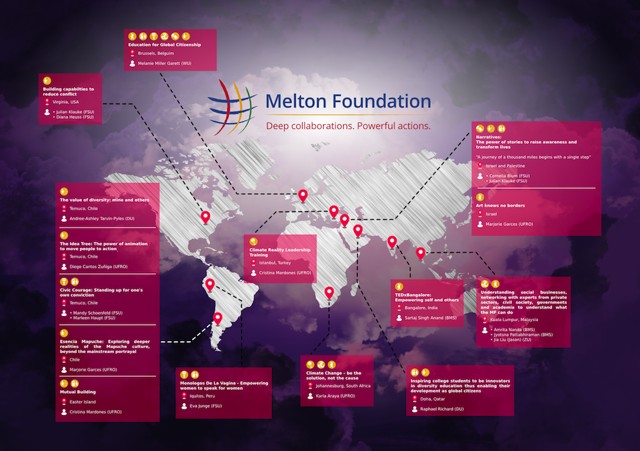 Fellows' Projects supported by MF Grants between 2012-2014.