Dream. Explore. Discover: Melton Fellows From China Share Life And Career Tips
---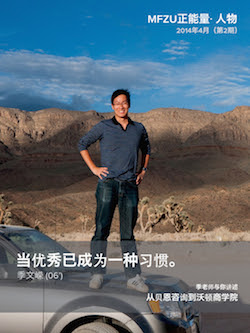 MFZU "Positive Energy Group" initiates Chinese Melton Share
Senior Fellows from MFZU, on the initiative of Zhang Jiangyang, have created a forum to share life experiences and positive energy, to promote exchange and learn from each other. Very often, the topics revolve around encouraging younger Fellows to take risks while they are young and to try new things.
At the moment, the group brings together roughly 20 Fellows from 10+ cities and 4+ time zones. Once a month, one Fellow prepares a 30-minute presentation, followed by Q&A. On average, twelve Fellows have participated in each session. The topics so far:
Next up is Liu Xiaoguang on Open Source Hardware.
Another purpose for the initiative is to build community in preparation for organizing the 2015 Global Citizenship Conference. The group wants to grow – so if you would like to join them, get in contact with Zhang Jiangyang and Zhen Li.
Comments
There are no comments

Posting comments after three months has been disabled.