Melton Foundation participates at Ashesi International Week
---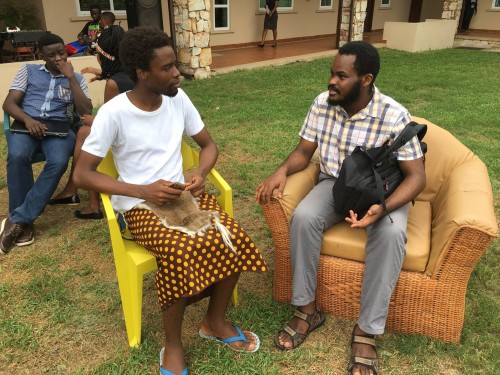 The Melton Foundation is continuing to strengthen its ties to its newest partner campus, Ashesi University in Ghana. A recent visit by MF staff to the campus provided an opportunity to highlight fellows' activities and explore new synergies.
As part of International Week, Ashesi Melton Fellows organized a Human Library, a highly interactive session to defy stereotypes through the power of stories. When readers come to the library, instead of borrowing hard cover paper books, they "borrow" human beings.
"There is so much power in telling our own personal stories. It comes with ease and a flair that no one else can or will have. For most of us it can be therapeutic, and for others it is just a liberating experience," says Ashesi Melton Fellow Beryl Akuffo-Kwapong. The idea of the human library is to create a space that allows people to have conversations, especially dialogues, to defy stereotypes and prejudices.
The students telling their stories told about a wide range of experiences, such as living with a physical disability, growing up as an orphan, being an ex-refugee and a Rwandan genocide survivor, among others. "For most people, it was a beautiful experience learning more about other students, experiences and cultures," Beryl says. "For others, it was a time to be more grateful about life, and for most it was an emotional story worth crying for."
In one of the week's events, MF staff also gave a talk on global citizenship, inviting the campus to foster togetherness and purpose within the community and beyond. "We need to reach out, open up and think beyond our own interests," said Lars Dietzel, Senior Fellow and Global Network Manager at the Melton Foundation. "We need to embrace that aspect of responsibility that is understanding, appreciating and embracing your role in society, to not only make an individual difference but to think about the bigger picture and act in role that each of us fits in."
At Ashesi, which counts on a thriving social innovation and entrepreneurship environment, the Melton Foundation is exploring a variety of collaboration opportunities. Some inspiring local projects include Sesa Mu, a social entrepreneurship project where students work with farmers in the village of Berekuso, and A New Dawn, a group of 20 Aseshi students working on sexual education, heath and entrepreneurship with young girls in the Berekuso community.
"Visiting the rural school and learning about the projects students are doing there, or visiting the farm project and talking with the students, I could see how much they really care about what they are doing," says MF program manager Patricia Ortiz. "They don't only take it as a learning experience, but really care about the impact their work can have on others and on their own lives as well."
Comments
There are no comments

Posting comments after three months has been disabled.