Global Citizenship Conference
The Global Citizenship Conference (GCC) is an annual event hosted by the Melton Foundation and one of our partner universities. The GCC convenes about 100 Melton Fellows, faculty from our partner universities, and leading Global Citizenship advocates, practitioners, and experts to
Build a global community around Global Citizenship in order to promote the concept and its practices;
Further the learning and leadership development of Melton Fellows as global citizens and advocates of global citizenship; and
Bring global citizenship to the "grassroots" level, by working on local aspects of global issues at the host university and surrounding local community.
GCC 2019: Leveraging Global Citizenship at the intersection of Sustainability, Technology and Social Innovation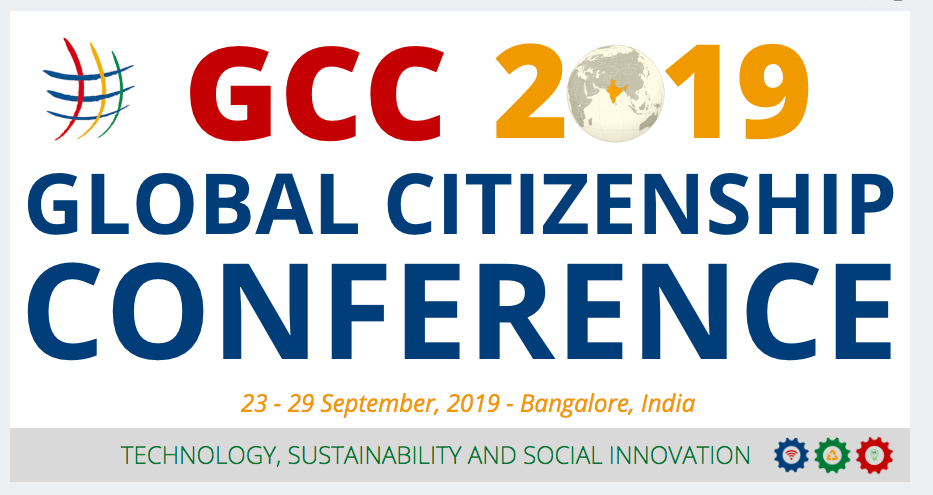 What better place to celebrate intercultural melange, discuss and deliberate on socio-technical challenges, than the multicultural, diverse and the new age silicon valley of India, Bangalore!
As we set out to explore the intersection of Sustainability, Technology and Social Innovation, we look forward to welcoming you with a very warm namaskara for a weeklong celebration of ideas, learning and effectual collaboration.
You, too, can be part of the journey!
There is ample opportunity for Senior Fellows and Task Team members to engage. And for those who may require financial support, we offer grants for Senior Fellows and Task Team members who want to bring their enthusiasm, stories and expertise to the conference.
Click here for more and come visit us in Bangalore this September!
Past Conferences
Global Citizenship Conference 2018, Phoenix, USA
From 22-29 October 2018, we took our approach to "collaborate across boundaries" to greater heights through an exciting partnership with Net Impact. Connected to the theme of the 2018 Net Impact Conference (NI18) Outside the Lines, Fellows connected, ideated and collaborated to unlocking the potential for transformational change. Click here for a recap of the week that was, and our key learnings from the experience...
Global Citizenship Conference 2017, wider Accra, Ghana
Under the theme "Embrace diversity, nourish collaborations, forge solutions", we gathered in Ghana to help answer one big question: What is the role of a Global Citizen in a world that is in flux? Our 26th annual conference took place at Ashesi University College from August 13 - 19, 2017 and engaged Melton Fellows, local communities and interested Global Citizens from near and far. We learned a lot, but see for yourself...
Global Citizenship Conference 2016, Temuco, Chile
The #ChileGCC2016 in Temuco, Chile was special: It marked the Melton Foundation's 25th anniversary! From September 26 – October 2nd, 2016 at Universidad de La Frontera (UFRO), the conference put special emphasis on topics such as gender empowerment, cultures in a globalized world and sustainable economies. Find out what happened here.
Global Citizenship Conference 2015, Hangzhou, China
From September 14 – 21, 2015 at Zheijang University, Hangzhou, China, our 2015 Global Citizenship Conference brought together Melton Fellows, thought leaders, and global citizenship advocates to share ideas, learn skills, forge partnerships, and take action on local and global issues like technology for sustainability, global citizenship education, and human trafficking. One of the many highlight was the #100Acts Program, but see for yourself.
Global Citizenship Conference 2014, New Orleans, USA
Our #MFGCC2014 happened from September 29 – October 6, 2014 at Dillard University, New Orleans and put special emphasis on topics like gender
equality, global citizenship education, and technology for social change. Dig into our Springboard Sessions, one of the big highlights of the 2014 GCC featuring four powerful stories of change from different parts of the world, and find out about the results of our Idea Incubator, which helps cultivate Fellows' creative ideas.
Global Citizenship Conference 2013, Bangalore, India
From August 2-9, the 2013 Global Citizenship Conference with the theme "Global Citizenship in Action" was co-hosted by BMS College of Engineering in Bangalore, India. About 100 global citizens from over eight countries participated to work together, learn from each other and develop new ideas for action. Fellows acquired new skills and sought of creative ways to address some of the world's challenges - like climate change, conflict resolution, intercultural exchange, driving change through open information, and more.
Check out some of the ideas generated in What Global Citizens Want and find out more about our new Springboard Sessions, which we launched at the 2013 GCC.
Global Citizenship Conference 2012, Jena, Germany
The first annual Global Citizenship Conference was co-hosted by Friedrich Schiller Universität in Jena, Germany from August 20 – 26, 2012. The goal of the conference was to explore and define the concept of Global Citizenship. Through workshops on a variety of topics such as politics and media, multiple identities, business and economy, sustainable lifestyle, and ethics and responsibilities, the GCC provided real-life examples of global citizenship.
At the 2012 GCC, the Fellows also hosted the highly successful TEDx Jena Paradies which included talks and performances by experts from around the world.
Transition from Symposium to Global Citizenship Conference
From 1991 to 2011 the Melton Foundation's large annual event was its Symposium. Many of the successful learning and team-building features developed over 20 symposia have been carried over to the Global Citizenship Conference (GCC).
Symposia brought together Fellows, students, faculty, and experts from all over the world for a weeklong Symposium at one of the Melton Foundation's five partner universities. Every Symposium had a specific theme related to challenging global issues such as: Identity (Temuco, 2011), the re-emergence of China – China Now! (Hangzhou, 2010), Innovations (Bangalore, 2009), and Climate Change (New Orleans, 2008). Learning activities before, during, and after the Symposium enabled the Fellows to collaborate successfully across cultures, as they developed global perspectives on today's issues.